Karon Law Blog
See the blog archive »
Mr. Karon Goes to Washington: Fighting Immunity for Corporate Wrongdoers
Posted July 07, 2017
By Jonathan A. Karon
Recently I spent a day in D.C. , along with some trial lawyer colleagues, meeting with members of the Massachusetts Congressional delegation.  We were there to discuss two pending bills that would decrease safety and make it difficult to hold corporate wrongdoers accountable to those they've injured.  One of these bills (H.R. 1215 for serious policy wonks) misleadingly called the "Protecting Access to Care Act" would preempt and replace state product liability and medical malpractice law with federally imposed caps of $250,000 for non-economic damage awards.  So, no matter how serious and permanent the injury, for example, blindness, loss of a limb, infertility, brain damage, etc., the most that could be awarded, no matter how severe the impact on someone's enjoyment of life, would be $250,000.  This is not just a bill involving medical malpractice cases. What makes this legislation really appalling is that this immunity is provided not just to doctors, but to drug companies, manufacturers of medical devices, compounding pharmacies, and for profit nursing homes.  The immunity would even apply to intentional acts, like an assault on a patient in a nursing home.
The other bill (H.R. 985) titled the "Fairness in Class Action Litigation Act" would, as a practical matter, essentially eliminate class actions.  It would require that all members of a proposed class suffer the exact same injury.  So, for example, if you and others are cheated by your bank or your credit card company or cell phone provider, in exactly the same way, you would not be able to form a class if you didn't lose the same amount of money.  Now, I'm sure that like me, you've found it aggravating to read about class action settlements where the attorneys got significant legal fees and the wronged consumers got a discount coupon.  But, in many cases, class action cases are an essential tool for preventing corporate abuses and protecting consumers and employees.  That's why, even though I don't do class action cases and neither do any of the other lawyers who were with me, we felt it was important to voice our concerns about this bill as well.
I would like to give a shout out to the members of the Massachusetts Congressional delegation and their staff.  It was a particularly busy time when we went (Senate Republicans had just released their proposed health care bill) so some of the members were unable to meet with us personally.   But when that happened, we met with a dedicated and knowledgeable member of their staff.  Congressional staff members are some of the unsung heroes in our government and, to the extent our government functions these days, it does so in large part because of the staff.   I'd like to thank them and their bosses for the respectful consideration which they gave us.
As for the bills, the House voted last week on the "Protecting Access to Care Act".  It passed by a surprisingly thin margin.  In addition to all the Democrats (thus the entire Massachusetts delegation) several conservative Republicans voted against it because the bill violated "State's Rights" to establish their own state tort law system.  For which they should be commended.  The bill will now move to the Senate, where it will hopefully be defeated.  If you live in a state other than Massachusetts or know someone who does, it's a good time to call your Senator.   To the best of my knowledge, the other bill, the Class Action bill, hasn't been voted on.
Finally, if you're curious, the trip wasn't all serious.  For example, one of my friends took this photo of me in front of the Supreme Court.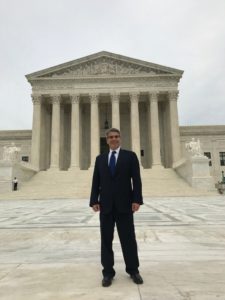 The Supreme Court, by the way, has a great gift shop, as does the House and the Senate.  Also, if you have a chance, the Senate dining room is open to the public and has better food than the House cafeteria.  Also, you never know who you're going to see while you're there.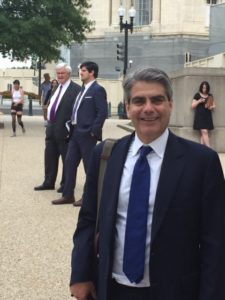 Please note that posting a photo that has a famous person in the background is not and should not be taken as an endorsement of said person or their politics.  But it does show you never know who you'll see.